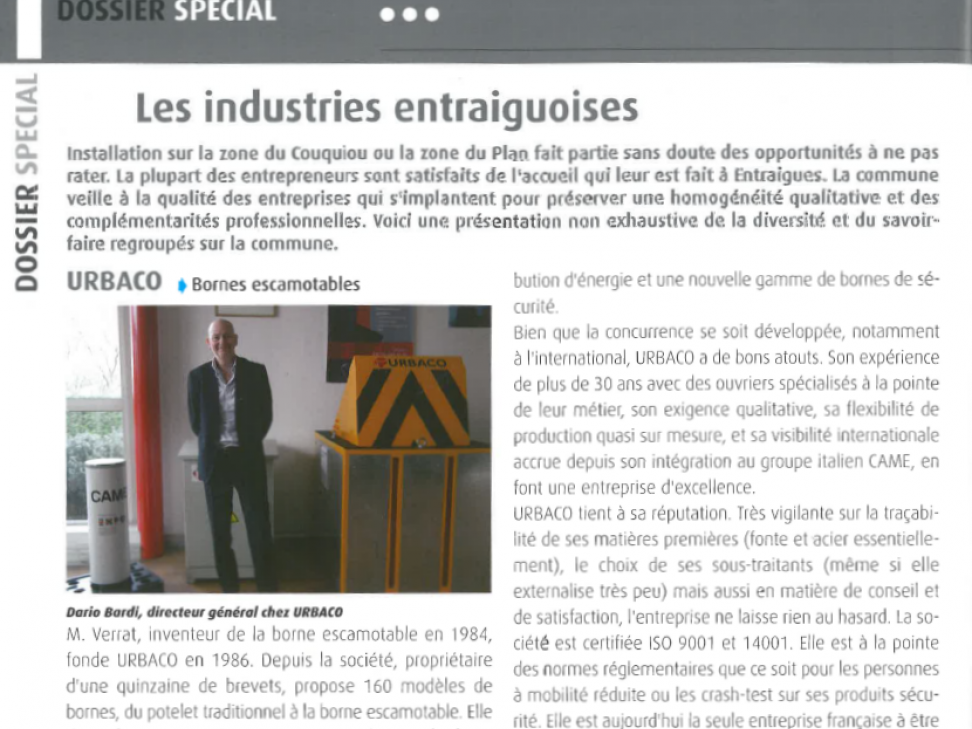 PRESS RELEASE IN A LOCAL MAGAZINE: FOCUS ON THE RETRACTABLE BOLLARD INVENTOR
WEDNESDAY, THE 29th OF MARCH 2017, ENTRAIGUES INFOS
URBACO RETRACTABLE BOLLARDS
Dario Bardi, Managing  Director  of URBACO

Mr. Verrat, invented the retractable bollard in 1984, then he established URBACO in 1986. Since then, the company, owner of about fifteen patents, offers 160 bollards designs, from basic posts to automatic bollards. The company has diversified its activity with energy distribution bollards and a new range of security bollards.
Although competition has increased, especially from foreign countries, URBACO has key strengths. Its experience of over 30 years with experts and highly skilled  workers, its quality requirements, its production flexibility and its growing international brand image since it has become a part of the Italian group: CAME, make it a company of excellence.
URBACO takes care about its reputation. The company is very vigilant about the traceability of raw materials (mainly cast iron and steel), the choice of its subcontractors (even though the company outsources very few) but also in terms of advices and customer satisfaction, the company leaves nothing to chance.
The company is certified ISO 9001 and 14001. The company complies with regulatory standards, whether for reduced mobility people or crash-tests on its security products. Today, URBACO is the only French company which is certified IWA 14.2013.